News

Info
Excellent forex economy calendar indicator for MetaTrader 4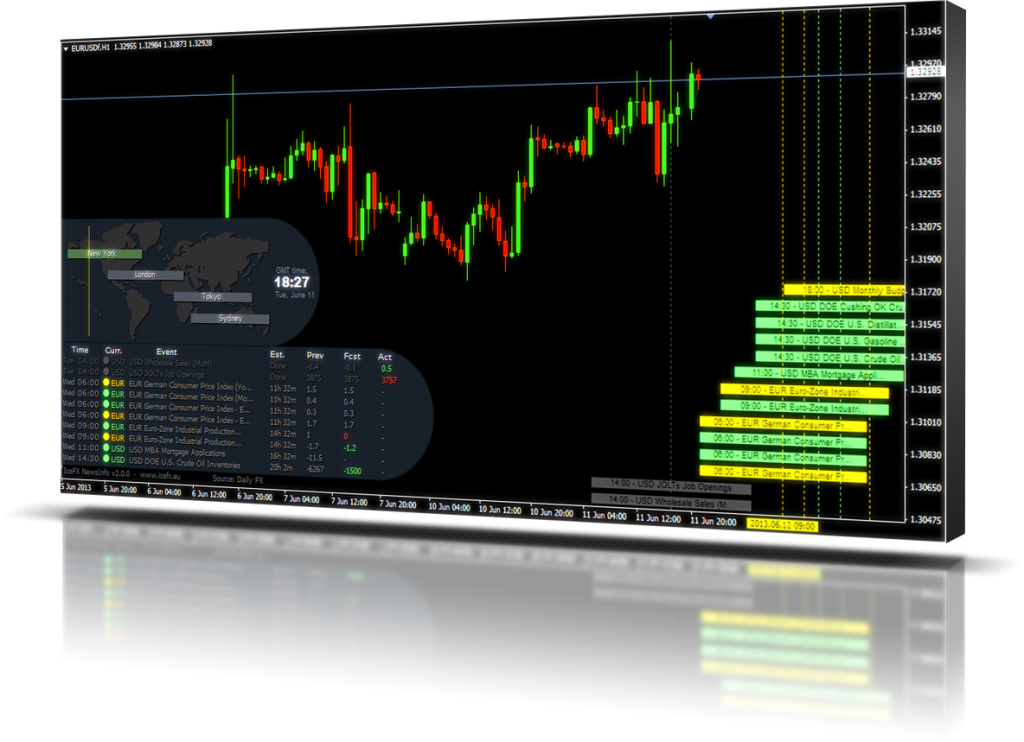 Today, the economic news greatly influences the foreign currency market (forex). For this reason, every professional trader with should take into consideration what is going to be expected when trading before news. Those who are trade manually for them NewsInfo may be important to be able to prepare for a news or an event. Those who are using Expert Advisors (EA) for them NewsInfo may be important to stop the robots before news because during event(s) price movements could break out and these huge movements often gives false data to any indicator and/or false indication to any EA. In addition to that during news period a rapid spread and slippage increase can cause great losses and be able to ruin an otherwise excellent trading strategy.
We at Darkmoon FX think this is a very effective tool for every professional forex trader on MetaTrader 4 platform. There's no need of separate application or website where you can watch the events, "all-in-one" NewsInfo allows you to immediately see all news/events directly on your chart. The interface represent all news information in a modern and elegant way fully developed under MetaTrader 4 (build 600 & up) environment.
The program is able to stop Expert Advisors (EA) and turn them back on after a predefined time after news. NewsInfo provides different types of interface dedicated to developers who can check the indicator last and next news indications. The program understands almost all popular forex news providers so you can easily choose your preferred news source. In some cases, historical news/events are also available at some news providers so NewsInfo indicator could be used efficiently during backtests.
Key features:
Show next eight news on the chart news
Timeline lines
2 forex news provider can be selected
News from ForexFactory calendar
Previous, Forecast, Actual data (only available at DailyFX)
GMT time display (automatic detection)
Filtering options for specified currencies
Impact filtering (low/medium/high)
Sending notify before news directly to mobile phone (MT4 Notification Service)
Disabling(*) Expert Advisors (EA) before news, enabling the after news
Important values ​​stored in global variables to join external (third party) robots
Important indicator values ​​stored in the buffer to join external (third party) robots
Backtest is available (only available at certain data providers)
* – The indicator shut down all robots running on that terminal (AutoTrading button on the toolbar). A different solution can be achieved with the shutdown done by in the ExpertAdvisor (EA) using indicator interface.
---
Download
---
Documentation
---